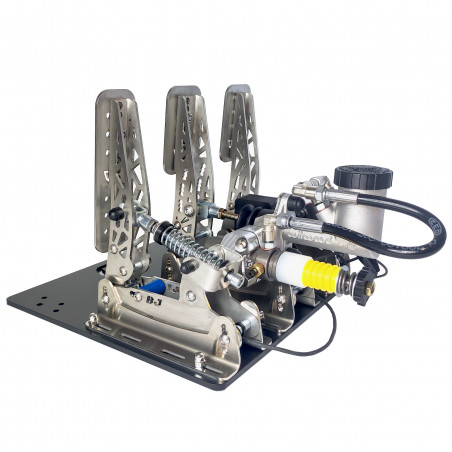  
BJ STEEL GT HYDRAULIC Pro
We present to you the BJ STEEL GT Hydraulic pedalboard, from the Steel family of BJ Simracing, the latest to join our catalog.

Made from 3mm thick satin stainless steel to provide unmatched strength, it features 8mm diameter stems to push through the throttle and clutch springs.

Throttle: mount a magnetic hall system without friction or wear.
Brake: Assemble an authentic hydraulic system with Wilwood slave cylinder and pump, to get the true feel of a real brake.
Clutch: Like the accelerator, it mounts a magnetic hall sensor system without friction or wear.

It has the following regulations:


Pedal travel adjustment
Pedal height adjustment
Adjusting the inclination of the pedals
Adjusting the spring preload of the throttle, brake and clutch
Throttle hardness adjustment

All the pedalboards in the BJ Steel family feature 16-bit electronics from Leo Bodnar which offers 65,000 steps of resolution. Depending on the configuration, more than 50,000 are used in the brake and more than 20,000 in the accelerator and clutch.

Since September 2021, all hydraulic pedals have been fitted as standard with the yellow Nitroflex elastomer, with spring centering device and preload adjustment.

If you want to buy your pedalboard with the BJ Simracing universal base (Pedal Plate), you must select it from the drop-down that appears at the top right
No customer reviews for the moment.
Customers who bought this product also bought: